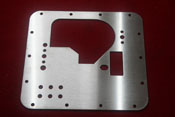 Sump baffle or sloppage plate manufactured in the UK from stainless steel. It prevents oil starvation under heavy acceleration, especially when riding up steep hills and exends the life of the big ends. It will also help prevent 'heavy breathing', excessive oil misting and the resulting loss of oil which often occurs on big Guzzi twins when used in the upper RPM range.

To fit this sump plate you will need a pair of sump gaskets (ENA14036). This part also known as a windage plate
This item is normally back in stock within 1-3 weeks, if you need it more quickly please call us on 01484 841395. If you would like to be emailed once this item is available again then email us.