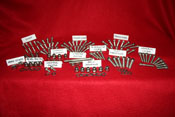 Stainless steel fasteners kit for VHB carb models without sump extension.This kit contains nuts, bolts and washers for the following: rocker covers, timing cover, gearbox bell housing, alternator cover, gearbox rear cover, neutral switch, drive box to swingarm, starter motor, head studs, exhaust flanges, inlet manifolds and sump. Just what you need to brighten up your Guzzi and ensure nuts and bolts don't seize on your bike

This engine bolt kit contains appropriate M6, M8, M10 socket cap and hex head bolts, nuts and washers. 149 pieces. To ensure you can easily release these fasteners in years to come we recommend wiping each fastener with copper grease (OIA11070). You may also require a replacement front engine bolt kit in stainless (SSA14450) or distributor screws (SSA05025 and SSA04008)
This item is normally back in stock within 1-3 weeks, if you need it more quickly please call us on 01484 841395. If you would like to be emailed once this item is available again then email us.