Shop headings: New Spares | Used Spares | Accessories
The Shop

Used Spares

Cali EV Cali Jackal Cali Stone Specia

Oils Greases and Workshop Supplies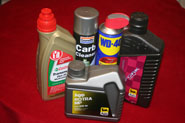 This section contains oils, grease, brake fluid, polish and other essentials for your workshop
Page 1 of 2
| | |
| --- | --- |
| Sort by Title | Sort by Price |
Universal Part: AGIP Brake Fluid 1L DOT 4




BRA99003

£11.70

INC VAT

£9.75 EX VAT

One litre AGIP brake and clutch fluid, this is a high performance DOT 3 and 4 fluid suitable for all Moto Guzzis

Mixes safely with other DOT 3 and DOT 4 brake and clutch fluids. If you are having problems bleeding your brakes you may need one of our one way bleed nipples BRA41651 and BRA41650

Please note this part CANNOT be posted outside of the UK mainland area

This item is normally back in stock within 1-3 weeks, if you need it more quickly please call us on 01484 841395. If you would like to be emailed once this item is available again then email us.



Dimensions: 1 litre
Universal Part: AGIP Brake Fluid 500ml DOT 4




BRA99002

£6.10

INC VAT

£5.08 EX VAT

500ml AGIP brake and clutch fluid, this is a high performance DOT 3 and 4 fluid suitable for all Moto Guzzis

Mixes safely with other DOT 3 and DOT 4 brake and clutch fluids. If you are having problems bleeding your brakes you may need one of our one way bleed nipples BRA41651 and BRA41650

Please note this part CANNOT be posted outside of the UK mainland area

This item is normally back in stock within 1-3 weeks, if you need it more quickly please call us on 01484 841395. If you would like to be emailed once this item is available again then email us.



Dimensions: 500ml
Universal Part: Agip Fork Oil 10W




OIA02010

£13.00

INC VAT

£10.83 EX VAT

1 litre of Agip SAE 10W fork oil. Eni Fork Oil 7.5W is a product designed for the motorcycle industry designed and developed for use in forks and shock absorbers, suitable for both road and off-road use. The product is part of the Fork Oil series, which includes products with a different viscosity gradient to be selected in relation to the manufacturer's requirements and/or the damping action desired. It is also possible to obtain intermediate grades by mixing with other Fork Oil grades.

As recommended by Guzzi. One litre will refill both forks on most models, check your manual for exact quantity required. 5W also available, use a combination of 5W and 10W to tune your damping more precisely

See SIA01049 for workshop gloves for your oil change
Eni Fork Oil 7.5W is equipped with appropriate rheological features such as low temperature fluidity, high viscosity index and a very low sliding point, which results in smooth and uniform suspension behavior in a wide range of temperatures.

This product is characterized by high anti-wear properties, which ensure high protection and long service life to the lubricating parts.

The corrosion-resistant properties of Eni Fork Oil 7.5W allow effective protection of surfaces against corrosive phenomena.

Eni Fork Oil 7.5W has the necessary properties for the correct operation of the lubricated equipment, such as low foaming, low air retention, stability in hot conditions, and compatibility with rubber materials (gaskets).
Please note this part CANNOT be posted outside of the UK mainland area

quantity

add to basket




Dimensions: 1 litre

More than 5 in stock

GU30530527
Universal Part: Agip Fork Oil 15W




OIA02015

£13.00

INC VAT

£10.83 EX VAT

1 litre of Agip SAE 15W fork oil, lighter weight than standard on most Guzzi models. Eni Fork Oil 15W is a product designed for the motorcycle industry designed and developed for use in forks and shock absorbers, suitable for both road and off-road use.

As recommended by Guzzi. One litre will refill both forks on most models, check your manual for exact quantity required. 10W also available, use a combination of 10W and 15W to tune your damping more precisely

See SIA01049 for workshop gloves for your oil change
Please note this part CANNOT be posted outside of the UK mainland area. It is also possible to obtain intermediate grades by mixing with other Fork Oil grades.

quantity

add to basket




Dimensions: 1 litre

More than 5 in stock
Universal Part: Agip Fork Oil 5W




OIA02005

£13.00

INC VAT

£10.83 EX VAT

1 litre of Agip SAE 5W fork oil, lighter weight than standard on most Guzzi models. Eni Fork Oil 5W is a product designed for the motorcycle industry designed and developed for use in forks and shock absorbers, suitable for both road and off-road use.

As recommended by Guzzi. One litre will refill both forks on most models, check your manual for exact quantity required. 10W also available, use a combination of 5W and 10W to tune your damping more precisely

See SIA01049 for workshop gloves for your oil change
Please note this part CANNOT be posted outside of the UK mainland area. It is also possible to obtain intermediate grades by mixing with other Fork Oil grades.

quantity

add to basket




Dimensions: 1 litre

More than 5 in stock
Universal Part: Copper Grease 70g Tube




SIA11070

£4.40

INC VAT

£3.67 EX VAT

Handy 70g tube of copper grease anti-seize paste

Use to prevent threaded studs, nuts and bolts form seizing

Please note this part CANNOT be posted outside of the UK mainland area

quantity

add to basket




1 in stock
Fits Moto Guzzi Cali EV (1997-2002), V11 Sport, 1100 Sport IE, Centauro, Daytona, Cali Special (1999-2002), Cali Jackal, Cali Stone (2001-2002)
ENI i-Ride Moto 20W-50 Fully Synthetic Engine Oil 1 Litre


OIA01052

£13.00

INC VAT

£10.83 EX VAT

1 litre of fully synthetic ester based ENI i-Ride 4T SAE 20W-50 engine oil. Moto Guzzi specify this oil for non PI Cali EV models. This is latest generation synthetic oil which gives best protection for your engine, even at extreme temperatures. The special formulation ensures great thermal and shear stability

The formulation of Eni i-Ride moto 20W-50 stands out for its low volatility and high thermo-oxidative stability which ensure excellent engine performance and reduced oil consumption.

The detergent and dispersing qualities of Eni i-Ride moto 20W-50 are the result of a careful selection of the components included in the formulation, which results in effective control on the formation of deposits such as sludge, lacquers and of carbonaceous type.

The viscosimetric properties associated with the chosen formulation technology give the product a high ability to effectively counteract wear phenomena resulting in the protection of the mechanical parts of the engine.

Eni i-Ride moto 20W-50 has an exceptional mechanical shear resistance, a prerequisite for all motorcycles with combined engine gearbox lubrication.

Surpasses API SL, JASO MA and MA2.
Quantities required:

Cali 1100, Cali EV- 3.0l, V11 Sport, Daytona RS, 1100 Sport IE and Centauro - engine 3.5l



See SIA01049 for workshop gloves and ENA41653 for a oil drain kit for your oil change.
Please note this part CANNOT be posted outside of the UK mainland area

quantity

add to basket




Dimensions: 1 litre

More than 5 in stock
Fits Moto Guzzi Bellagio, Cali Vintage, Cali 1400, Breva ALL, Norge ALL, Griso ALL, Stelvio, 1200 Sport, Cali Classic, Cali Aquila Nera, V7 Classic, Nevada 750 (2004-2013), V7 II ALL, V7 III ALL, V9 ALL, V85TT
ENI i-Ride Racing 10W-60 Fully Synthetic Engine Oil 1 Litre


OIA01051

£14.60

INC VAT

£12.17 EX VAT

1 litre of fully synthetic ENI i-Ride 4T Racing SAE 10W-60 engine oil. Moto Guzzi specify this oil for 2004 on small twins, 2006 on Cali EV models and all Breva, Norge, Stelvio, 1200 Sport and Griso models. This is latest generation synthetic oil which gives best protection for your engine, even at extreme temperatures. The special 10w60 formulation ensures great thermal and shear stability

ENI rated API SL. Suitable for sport and racing use.


Quantities required:
1200 Sport, Breva 1100, 1200, Griso, Norge, Stelvio, Cali EV - engine: 3.6l
Cali 1400 - engine 4.01l
Bellagio - engine: 3l
Breva 750, Nevada 750 (2004 on), V7 Classic - engine: 2l



See SIA01049 for workshop gloves and ENA41653 for a oil drain kit for your oil change
Please note this part CANNOT be posted outside of the UK mainland area

May also be labelled Piaggio or Aprilia Racing

quantity

add to basket




Dimensions: 1 litre

More than 5 in stock
Fits Moto Guzzi Cali EV (2003-2006), Cali Stone (2003-2004), Cali Special (2003-2006), 1100 Sport Carb, MGS-01
ENI I-Ride Racing 5W-40 Fully Synthetic Engine Oil 1 Litre


OIA09541

£13.00

INC VAT

£10.83 EX VAT

1 litre of ENI 4T Racing fully synthetic 5W-40 oil for PI (hydraulic valve lifter models). This is the oil recommended by Guzzi for all PI models. This is latest generation synthetic oil which gives best protection for your engine, even at extreme temperatures. The special formulation ensures great thermal and shear stability

Eni i-Ride racing 5W-40 with its particular additivation is able to guarantee a good engine detergent,in particular it has characteristics that allow efficient control of the formation of deposits areas submitted to high temperature.

The adoption of an innovative formulation technology makes it possible to enhance the engine performance in all operating conditions.

The product effectively counteracts wear phenomena that may occur in engines submitted to higher stresses.

Surpasses API SL, JASO MA and MA2
Quantities required:

1100 Sport Carb - engine: 3l
Cali EV (PI models) - engine: 3l



MGS-01 3.5l. See SIA01049 for workshop gloves and ENA41653 for a oil drain kit for your oil change.
Please note this part CANNOT be posted outside of the UK mainland area

quantity

add to basket




Dimensions: 1 litre

More than 5 in stock
Fits Moto Guzzi Breva 850, Breva 1100, Breva 1200, Norge ALL, Griso ALL, Stelvio, 1200 Sport, Cali 1400, Bellagio
MG/S SAE 85W-90 Gearbox Oil 1 Litre


OIA08091

£19.80

INC VAT

£16.50 EX VAT

1 litre of AGIP 85w-90 mineral based gear oil. Excellent antiwear characteristics plus chemical stability and oxidation resistance to keep bearings and gears in optimum condition. This also allows long drain intervals

This gerbox oil is specially formulated for motorcycle transmissions and is approved by Moto Guzzi. It protects and lubricates over a wide temperature range and under extreme conditions. Also approved by Piaggio, Aprilia, Derbi, Gilera and Vespa. Exceeds API GL-5.
Quantities required:

Bellagio, 1200 Sport, Breva 1100, Breva 1200, Griso, Norge, Stelvio - gearbox: 0.5l
Cali 1400 - gearbox: 0.43l



See SIA01049 for workshop gloves for your oil change
Please note this part CANNOT be posted outside of the UK mainland area
This item is normally back in stock within 1-3 weeks, if you need it more quickly please call us on 01484 841395. If you would like to be emailed once this item is available again then email us.


Page 1 of 2