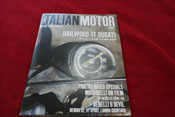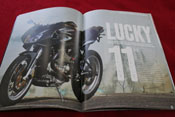 Issue 7 of the connoisseur's motorcycle magazine featuring
-NEMBO 32
One man's stubborn vision on how an Italian motorcycle should be
-HAILWOOD DUCATI
This motorcycle is history on wheels - but what's it go like?
-EMPEROR'S NEW CLOTHES
HT Moto treat the Guzzi V11 to an MGS-01 inspired makeover
- SILVER FOX
Parilla 175 with high cam motor is one of the most luscious bikes ever - fact!
- MONZA 1971, MIKE H, V7 SPORT
Wonderful photos from a casual test of a Guzzi 750 by a legendary racer
-BLACK DEVIL'S SIX
Another complete transformation from Spain of an abandoned Sei
-PROJECT BIKE(S)
A sad, neglected little ex-police Guzzi Stornello lives again. Bella!
- BLOODY HELL MARCELLO!
Or in Italian, Countach is what Bertone said on seeing the prototype


ITALIAN MOTOR is a new, full colour, A5 digest size, independently published magazine that lives, breathes and is passionate about Italian motorcycles and motors: classics - some modern - vintage - specials - home built - cafe' racers - scooters - design - people - heritage - meets and events - racers - tests - products and each issue features at least one special Italian car too. We pride ourselves on excellent journalism, and high quality and creative photography!!
This item can normally be supplied within 1-3 weeks, if you would like to be emailed once this item is available again then email us. If you would like to reserve this item please call us on 01484 841395