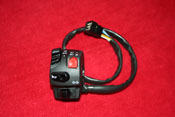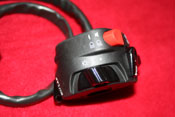 Domino left hand switchgear with lights on - park - off, high and low beam, pass, indicator and horn switches. Same style switch as ELA01738.

Already wired in to 9 pin block connector (you may need to alter the wiring on your bike to correspond to this block connector). Originally fitted as standard to early V11 Sport models. See the wiring diagram on our technical documents page for help installing this switchgear. See Greg Bender's website for a custom sub-loom that enables easy fitting of this part to models previously fitted with LEGO style swithgear
This item is normally back in stock within 1-3 weeks, if you need it more quickly please call us on 01484 841395. If you would like to be emailed once this item is available again then email us.