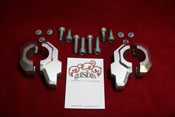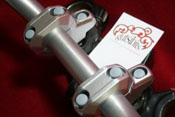 Barback riser kit for later big Guzzi's, this kit moves the handlebars back by 22mm and up by 30mm resulting in much improved comfort (especially on the early 1200 Sport). Finished in silver, this is a high quality German engineered kit.

Kit contains fitting instructions, zinc finish bolts, bolt head plugs and risers, handlebars and top yoke shown in photo not included. Normally this kit can be fitted without modifying your brakelines or control cables.
Improve riding comfort with this riser kit.

This item can normally be supplied within 1-3 weeks, if you would like to be emailed once this item is available again then email us. If you would like to reserve this item please call us on 01484 841395