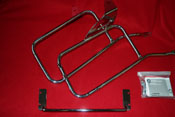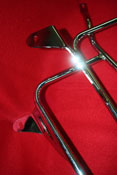 £235
£50 off these pannier frames!

Pair of chromed Hepco and Becker pannier frames for Hepco and Becker panniers. These high quality German frames bolt to the grab rail and footrest hangers. Once fitted you have a choice of Hepco and Becker panniers that can be mounted on your bike

Includes cross brace (fastens to grab rail) and nuts, bolts and washers to fit these frames. These are not compatible with the genuine Moto Guzzi luggage rack, if you need a rack you will also need to order the Hepco and Becker luggage rack LUA65102.
quantity

add to basket