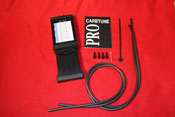 Get your bike running smoothly. The 2-column Carbtune Pro is for twins and will help you get your bike running smoothly and at its most powerful

Suitable for carb and fuel injected models
This item is normally back in stock within a few days. If you would like to reserve this item please call us on 01484 841395. If you would like us to email you once this item is available again then email us.