In this section: Privacy | Terms and Conditions
About Us
Welcome to Gutsibits
We are The Independent Moto Guzzi Spares Specialists offering the largest range of new, used and reconditioned Guzzi spares and accessories.
next day UK delivery on most items
all parts guaranteed
no quibble returns policy
rapid worldwide delivery (including North America, Australia and New Zealand)
more than 10000 new spares and accessories
VAT exempt international orders
spares in stock for all post 1968 Guzzis from V7 700 and Nuovo Falcone to the V7 850, V9, V85TT and V100
a family business where customer service counts
synonymous with customer service and efficiency when it comes to Guzzi spares
We offer a comprehensive Moto Guzzi spares and accessories service sourcing parts from our own extensive warehouse stock as well as the UK, Italy and Germany. We can supply We have taken on all the used spares from Motorworks and Moto Ecosse to ensure that we can find you what you're looking for. We offer a speedy and efficient service and because we understand how important your spares are we always send orders by first class mail, next day courier or airmail.
We believe in keeping Moto Guzzis of all ages on the road through supplying the spares you need at
realistic prices
. Our extensive used stock means we can often offer you a
choice of new, reconditioned or used spares
.
We ride Guzzis!
We've been riding and fixing Moto Guzzis for years, so we understand what make these bikes so special.
We pride ourselves on our personal service (see what other customers say about us) so you are assured of a hassle free transaction. If you can't see what you're looking for please contact us, we can order in just about anything that we don't hold in stock in within a week or so.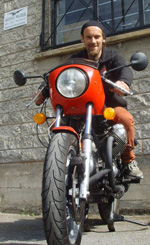 We stock spares for all post 1968 Moto Guzzis from V7 loop frames and Nuovo Falcones through to The new V7, V9 and V85TT models. This includes Spadas, all Le Mans models, Mille GTs, T3s, T4s, T5s, all V35, V50, V65, V75 models, Converts, G5s, 1000S, Mille GT, Stradas, Targas, all California models, 1100 Sports, V11 Sports, Brevas, Norges, Stelvios, Cali 1400, modern V7 models e.g. the V7 850, Bellagio, 1200 Sports, V85TT and the V100! We also stock service items for the Nuovo Falcone.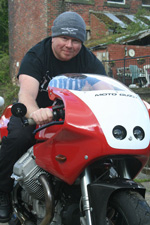 All new parts are guaranteed and we are happy for you to return goods within fourteen days of receipt if you change your mind about your order. Second hand goods are guaranteed by us for six months from purchase. See our returns policy for details.
We are pleased to stock genuine Brembo, Tommaselli, Dellorto, Ariete, Domino, Valeo, UFI, ENI AGIP, Agostini, Bosch, Lafranconi, Moto Guzzi, Tarozzi, Hepco and Becker and Luigi Stucchi spares amongst others
What our customers say about us
"Just wanted to thank you for the rapid service. I received my brake lever this morning. My new first stop for parts." - Pete
"I ordered some bits for my T3 from you last Tuesday and received confirmation of postage the next day. I now have the bits in my hand. I just wanted to tell you how impressed I am with your service. The bits are exactly what I need and the price is about half what I would have paid for them in New Zealand. Thank you so very much." - Dave B
"Just a short note to say thanks for outstanding delivery. I ordered on Friday and received the spares on Saturday morning. Your service shames companies who quote extended times and/or cost to deliver to the Highlands. Thank you." - Neil D
"Just a note to say thank you for your help with my charging problems! The bike is finally charging and I can enjoy what's left of the summer. All the best" - James
"JUST A QUICK ONE RE MY ORDER PLACED ON A FRIDAY THROUGH MY DOOR ON SAT MORNING A GREAT SERVISE GOOD WORK I WILL CERTANTLY BE USEING YOU AGAIN. ONCE AGAIN A BIG THANKYOU" - Barry C
"Ed, many thanks for the parts book, it will be really useful in future ordering. The gaskets have arrived 10 mins ago, superb service, I'll be in touch when I've sussed what I need
Thanks again - Denis
"Just a note to say the extra side panel badge clip arrived today. I am very impressed with the service and will be back. I will also recommend you to others" - Paul
"Thanks for the extra effort, pleasure doing business with a firm that cares. All the best from NE. Scotland" - Brian
"Advance/retard springs received today, excellent service" - Kevan
"I received my saddle today. I would like just like to say I am very pleased with it. I felt your description was accurate and the price reasonable. It has been a pleasure doing business with you and you will be my first point of call if I need any other bits. I will certainly recommend you in the future to others." - Rick R

"Many thanks. My parcel arrived today and I am very pleased with the goods I ordered. Very well packed too!" - Phil W

"New footrests have arrived already. They are much better. Excellent service, well done." - Stewart B

"Just a short note to say thanks for posting my parts off - they arrived on Friday in time for the weekend. I'm pleased to say that my Spada fired up at 5pm today after being in bits over the Xmas break!" - Darren S

"Many thanks and safely received today ...nice job" - Mike C

"Just a quick thanks for your excellent service. The crankcase breather valve that I ordered arrived today, super fast! 'nuff respect going out to the Gutsibits crew!" - Nick B

"Tank was received today (20/10) in good condition and as I expected. Thanks for the prompt service. Certainly exceeded my delivery time expectations." - Nev (Australia)

"thanks for the super speedy service" - Steve

"many thanks for your prompt and efficient service.Parts arrived this morning. I will use you again" - Nick B

"manuals recieved! brilliant, now i can stop having my local italian chef translating my other one, thanks so much. i will be returning soon for parts. thanks again for all your help" - ali