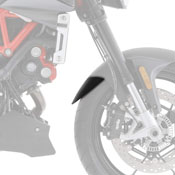 Black plastic front mudguard extension or Fenda Extenda for lower mudguard MUA00244. This will protect the exhaust pipes and front engine cover on your Guzzi from road debris, salt, water and traffic grime thrown up by your front wheel

Specifically designed to follow the contour of your bike's front guard, our Extenda Fenda is supplied with both plastic rivets for mechanical fitment and a sheet of our specially sourced 'Stick Fit Pads' for those customers who would prefer not to drill their front mudguard. Our Extenda Fenda is simple to install and will arrive safely packaged, together with comprehensive fitting instructions and all necessary fittings as detailed above. See this video for help fitting yours
This item is normally back in stock within 1-3 weeks, if you need it more quickly please call us on 01484 841395. If you would like to be emailed once this item is available again then email us.