Shop headings: New Spares | Used Spares | Accessories
The Shop

Used Spares

Quota

Oils Greases and Workshop Supplies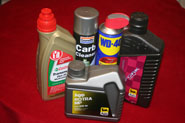 This section contains oils, grease, brake fluid, polish and other essentials for your workshop
Page 1 of 2
| | |
| --- | --- |
| Sort by Title | Sort by Price |
Universal Part: AGIP Brake Fluid 1L DOT 4




BRA99003

£11.70

INC VAT

£9.75 EX VAT

One litre AGIP brake and clutch fluid, this is a high performance DOT 3 and 4 fluid suitable for all Moto Guzzis

Mixes safely with other DOT 3 and DOT 4 brake and clutch fluids. If you are having problems bleeding your brakes you may need one of our one way bleed nipples BRA41651 and BRA41650

Please note this part CANNOT be posted outside of the UK mainland area

This item is normally back in stock within 1-3 weeks, if you need it more quickly please call us on 01484 841395. If you would like to be emailed once this item is available again then email us.



Dimensions: 1 litre
Universal Part: AGIP Brake Fluid 500ml DOT 4




BRA99002

£6.10

INC VAT

£5.08 EX VAT

500ml AGIP brake and clutch fluid, this is a high performance DOT 3 and 4 fluid suitable for all Moto Guzzis

Mixes safely with other DOT 3 and DOT 4 brake and clutch fluids. If you are having problems bleeding your brakes you may need one of our one way bleed nipples BRA41651 and BRA41650

Please note this part CANNOT be posted outside of the UK mainland area

This item is normally back in stock within 1-3 weeks, if you need it more quickly please call us on 01484 841395. If you would like to be emailed once this item is available again then email us.



Dimensions: 500ml
Universal Part: Agip Fork Oil 10W




OIA02010

£13.00

INC VAT

£10.83 EX VAT

1 litre of Agip SAE 10W fork oil. Eni Fork Oil 7.5W is a product designed for the motorcycle industry designed and developed for use in forks and shock absorbers, suitable for both road and off-road use. The product is part of the Fork Oil series, which includes products with a different viscosity gradient to be selected in relation to the manufacturer's requirements and/or the damping action desired. It is also possible to obtain intermediate grades by mixing with other Fork Oil grades.

As recommended by Guzzi. One litre will refill both forks on most models, check your manual for exact quantity required. 5W also available, use a combination of 5W and 10W to tune your damping more precisely

See SIA01049 for workshop gloves for your oil change
Eni Fork Oil 7.5W is equipped with appropriate rheological features such as low temperature fluidity, high viscosity index and a very low sliding point, which results in smooth and uniform suspension behavior in a wide range of temperatures.

This product is characterized by high anti-wear properties, which ensure high protection and long service life to the lubricating parts.

The corrosion-resistant properties of Eni Fork Oil 7.5W allow effective protection of surfaces against corrosive phenomena.

Eni Fork Oil 7.5W has the necessary properties for the correct operation of the lubricated equipment, such as low foaming, low air retention, stability in hot conditions, and compatibility with rubber materials (gaskets).
Please note this part CANNOT be posted outside of the UK mainland area

quantity

add to basket




Dimensions: 1 litre

More than 5 in stock

GU30530527
Universal Part: Agip Fork Oil 15W




OIA02015

£13.00

INC VAT

£10.83 EX VAT

1 litre of Agip SAE 15W fork oil, lighter weight than standard on most Guzzi models. Eni Fork Oil 15W is a product designed for the motorcycle industry designed and developed for use in forks and shock absorbers, suitable for both road and off-road use.

As recommended by Guzzi. One litre will refill both forks on most models, check your manual for exact quantity required. 10W also available, use a combination of 10W and 15W to tune your damping more precisely

See SIA01049 for workshop gloves for your oil change
Please note this part CANNOT be posted outside of the UK mainland area. It is also possible to obtain intermediate grades by mixing with other Fork Oil grades.

quantity

add to basket




Dimensions: 1 litre

More than 5 in stock
Universal Part: Agip Fork Oil 5W




OIA02005

£13.00

INC VAT

£10.83 EX VAT

1 litre of Agip SAE 5W fork oil, lighter weight than standard on most Guzzi models. Eni Fork Oil 5W is a product designed for the motorcycle industry designed and developed for use in forks and shock absorbers, suitable for both road and off-road use.

As recommended by Guzzi. One litre will refill both forks on most models, check your manual for exact quantity required. 10W also available, use a combination of 5W and 10W to tune your damping more precisely

See SIA01049 for workshop gloves for your oil change
Please note this part CANNOT be posted outside of the UK mainland area. It is also possible to obtain intermediate grades by mixing with other Fork Oil grades.

quantity

add to basket




Dimensions: 1 litre

More than 5 in stock
Fits Moto Guzzi V35, V50, 850/1000 ALL Models, V65, Cali 1100 (1994-1998)
ATF Fluid 1 Litre


OIA01001

£9.50

INC VAT

£7.92 EX VAT

1 litre of Millers ATF, used for fork lubrication and as hydraulic fluid for auto drive on Convert

1.7l required for Convert torque converter circuit (oil change due every 18000 miles). 80ml required per side for fork lubrication on big twins equipped with cartridge fork dampers (e.g. Le Mans 2, T3, 1000 SP etc...), 70ml for required per side for fork lubrication on small twins and Cali 1100 equipped with cartridge fork dampers (e.g. V50 II, V35 etc...)

See SIA01049 for disposable workshop gloves for your oil change
Please note this part CANNOT be posted outside of the UK mainland area

quantity

add to basket




More than 5 in stock
Universal Part: Copper Grease 70g Tube




SIA11070

£4.40

INC VAT

£3.67 EX VAT

Handy 70g tube of copper grease anti-seize paste

Use to prevent threaded studs, nuts and bolts form seizing

Please note this part CANNOT be posted outside of the UK mainland area

quantity

add to basket




1 in stock
Fits Moto Guzzi V7 Sport, S3, 750S, 850/1000 ALL Models, Quota 1100, Cali 1100 (1994-1997), V35 ALL, V50 ALL, V65 ALL, V75, Nevada ALL (1991-2004)
ENI i-Base Professional Engine Oil 4 Litre


OIA11036

£38.00

INC VAT

£31.67 EX VAT

4 Litres of ENI Professional i-Base SAE20W-50 mineral oil. We recommend this classic engine oil for older (pre 1998) 2 valve big twins, it is similar to Castrol GTX 20/50 (which is no longer available). I-Base has an extremely high viscosity index which keeps it free flowing when cold whilst maintaining viscosity when hot. It is specially formulated for older engines. This oil was previously known as AGIP Classic

Eni i-Base professional L 20W-50 has a strong resistance to the deterioration of its characteristics and in particular to the thermo-oxidative phenomena resulting from prolonged exposure in high temperature conditions and in the presence of air and other agents. The anti-wear characteristics of this product ensure a long service life of the moving parts, reducing engine maintenance and overhaul.Rated API SL/CF.
Quantities required:

850/1000 ALL Models, Cali 1100, Quotas - engine: 3l
V35, V50, V65, V75 - engine: 2l



See SIA01049 for workshop gloves and ENA41653 for a oil drain kit for your oil change
Also available in 1l containers - see OIA34096
Please note this oil CANNOT be posted outside of the UK mainland area
This item is normally back in stock within 1-3 weeks, if you need it more quickly please call us on 01484 841395. If you would like to be emailed once this item is available again then email us.


Fits Moto Guzzi V7 Sport, S3, 750S, 850/1000 ALL Models, Quota 1100, Cali 1100 (1994-1997), V35 ALL, V50 ALL, V65 ALL, V75, Nevada ALL (1991-2004)
ENI I-Base Professional L 20W-50 1L


OIA34096

£9.80

INC VAT

£8.17 EX VAT

1 litre of Eni i-Base Professional L 20W-50. Eni i-Base professional L 20W-50 is an engine lubricant formulated with high performance bases, developed also to meet the requirements of older engines. It is suitable for petrol fueled engines or naturally aspirated diesel engines also operating under heavy conditions.

The good detergent and dispersing properties of Eni i-Base professional L 20W-50 effectively minimize the formation of lacquers, sludge and other types of deposits.

This product helps to prevent the piston rings sticking, keeping in suspension the substances that tend to settle.

Eni i-Base professional L 20W-50 has a strong resistance to the deterioration of its characteristics and in particular to the thermo-oxidative phenomena resulting from prolonged exposure in high temperature conditions and in the presence of air and other agents.

The anti-wear characteristics of this product ensure a long service life of the moving parts, reducing engine maintenance and overhaul.

Surpasses API SL/CF

quantity

add to basket




Dimensions: 1 litre

More than 5 in stock
Universal Part: Rotra MP SAE 80W-90 Transmission Oil 1 Litre




OIA08092

£12.00

INC VAT

£10.00 EX VAT

1 litre of Rotra MP EP80/90 mineral based gear oil for gearboxes and drive boxes

Used as gearbox oil and final drive oil in 5 speed 850, 1000 and 1100 models. For CARC unit / bevel boxes on 850 and larger Breva, Norge, Griso, Stelvio, 1200 Sport and Cali 1400 models. Can also be used as gearbox oil on these models. For gearbox only on small twins. Surpasses API GL-5, MIL L 2105 D, MAN 342 type M1, MAN 342 type M2 (Approved)
Quantities required:

V11 Sport - gearbox: 0.85l, bevel box: 0.37l
Daytona RS, 1100 Sport IE and Centauro - gearbox: 0.75l, bevel box: 0.25l
Bellagio, 1200 Sport, Breva 850, 1100, Breva 1200, Griso, Norge, Stelvio - bevel box: 0.38l
Cali 1400 - bevel box: 0.25l
V35, V50, V65, V75, Nevadas, Breva 750, V7 Classic - gearbox: 0.9l,
Convert gearbox: 0.60l, bevel box: 0.25l

See SIA01049 for workshop gloves for your oil change
Please note this part CANNOT be posted outside of the UK mainland area



quantity

add to basket




Dimensions: 1 litre

More than 5 in stock
Page 1 of 2