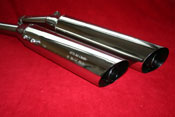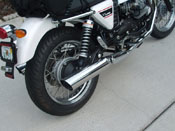 Pair of slash cut road legal Mistral performance silencers with removable baffles, these are a high quality, durable and better sounding alternative to the original silencers

Handmade to order in Italy
Supplied with stainless steel clamps, these fit onto your existing silencer brackets. Note that the optional Guzzi factory centre stand is not compatible with these silencers (unless you make up a centre stand stop bracket to prevent the stand touching the underside of the silencer).

Wondering how these sound? Have a look at this YouTube link.

Note that the heatshield on a Breva 750 cannot be fitted to this silencer. Silencer gaskets now included with these silencers
Also available in black
Release the music in your Guzzi!
This item is currently available by special order, if you would like to order this item please call us on 01484 841395 or email us. It is normally available within one to three weeks of your order