Shop headings: New Spares | Used Spares | Accessories
The Shop

New Spares

MGX-21 Cali 1400

Fuel and Carburettors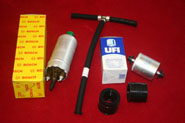 This section contains fuel pipes, carb overhaul kits, carb and injection system spares, fuel filters and inlet rubbers
Page 1 of 2
| | |
| --- | --- |
| Sort by Title | Sort by Price |
Fits Moto Guzzi Cali 1400 ALL, MGX-21 | BoosterPlug Fuelling Fixer


FUA85014

£129.00

INC VAT

£107.50 EX VAT



The BoosterPlug is an effective and cost efficient way to cure the fuelling problems common to all modern fuel injected Guzzi's.
Plugging directly into the wiring harness using original connectors, with no cutting or splicing required, installation takes less than ten minutes.

The BoosterPlug features a unique technology to provide your bike with a controlled fuel enrichment in all ambient temperature situations. No other Plug and Play device does this. A richer mixture is provided only when needed i.e at low RPMs and when accelerating. On open roads at a constant speed the Boosterplug sits idle to keep fuel consumption low.
Make your bike run as it should have done from the factory!

Improved and gentler throttle action when opening and closing throttle
Richer mixture when opening the throttle improves acceleration
Removes the uneven low speed running that is typical for modern lean burn engines
Stronger and more consistent at idle.
Reduced backfiring with aftermarket exhausts on engine braking
Improved fuel economy

Lifetime warranty View more information or download installation instructions.

quantity

add to basket




1 in stock
Universal Part: Dellorto "The Carburettor Manual" and "Guide 1.1"




BOA40000

£22.00

(VAT exempt)

£22.00 EX VAT

"The Carburettor Manual" is a comprehensive guide from Dellorto to the setting up and use of tapered needle motorcycle carburettors. Covers principle of operation of all Dellorto tapered needle carburettors 1970 onwards. 33 pages with colour pictures and diagrams. Also included is the original Dellorto "Tuning Guide 1.1" for carburettors, which gives advice on the choice, setting and use of a Dellorto tapered needle carburettor which includes colour carburettor cross sections showing the multiple stages of carburettor operation. Also contains float height and tapered needle selection tables.

This item is normally back in stock within a few days. If you would like to reserve this item please call us on 01484 841395. If you would like us to email you once this item is available again then email us.


Fits Moto Guzzi 1200 Sport ALL, Bellagio, Breva ALL, Cali Stone, Cali Aquila Nera, Cali Classic Touring, Cali Vintage, Cali 1400 ALL, Norge ALL, Cali EV (2003-2006), V11 Sport (2002-2005), V7 Classic (2008-2012), V7 Racer (2011), V7 Cafe (2009), Nevada 750 (2004-2013), Cali Vintage, Griso ALL, Stelvio (2008-2010), V7 II ALL
Filter Fuel Mahle


FUA01091

£16.00

INC VAT

£13.33 EX VAT

High quality German made Mahle fuel filter, connectors not threaded

In tank fuel filter. Also known as Guzzi ref. 32106060. See FUA20004 for fuel pipe clips for this filter

quantity

add to basket




Dimensions: 95mm overall length, cannister 52mm diameter

2 in stock

01106090 GU01106090 01 10 60 90
0110 6090 0110.6090 01.10.60.90
Fits Moto Guzzi 1200 Sport ALL, Bellagio, Breva ALL, Cali Stone, Cali Aquila Nera, Cali Classic Touring, Cali Vintage, Cali 1400 ALL, Norge ALL, Cali EV (2003-2006), V11 Sport (2002-2005), V7 Classic (2008-2012), V7 Racer (2011), V7 Cafe (2009), Nevada 750 (2004-2013), Cali Vintage, Griso ALL, Stelvio (2008-2010), V7 II ALL, V7 III ALL, V9 ALL
Filter Fuel UFI 3176000


FUA01090

£18.80

INC VAT

£15.67 EX VAT



UFI 31 760 00 fuel filter, connectors not threaded. On late CARC models (e.g. Stelvio) check that the code 05107230 is present on the fuel pump flange

In tank fuel filter. Also known as Guzzi ref. 32106060, see FUA01091 for alternative filter from Mahle. See FUA20004 for fuel pipe clips for this filter

quantity

add to basket




Dimensions: 95mm overall length, cannister 52mm diameter

2 in stock

01106090 GU01106090 01 10 60 90
0110 6090 0110.6090 01.10.60.90

Also fits Aprilia Dorsoduro 1200 (2010-2013), Aprilia Dorsoduro 750 - ABS (2008-2015), Aprilia Dorsoduro 750 Factory - ABS (2010-2013), Aprilia Shiver 750 (2007-2009), Aprilia Shiver 750 (2010-2013), Aprilia Shiver 750 GT 2009, Aprilia Shiver 750 USA (2011-2014)
Universal Part: Float Pivot Pin




FUA17346

£9.90

INC VAT

£8.25 EX VAT

Pivot pin / needle suitable for PHF / VHB / PHM and PHBH carbs

Float pin also known as Guzzi ref. 17933167, 061527346

quantity

add to basket




Dimensions: 47mm long

4 in stock

13933100 GU13933100 13 93 31 00
1393 3100 1393.3100 13.93.31.00
Universal Part: Fuel Pipe




FUA00001

£7.70

INC VAT

£6.42 EX VAT

1 metre of cloth covered rubber pipe suitable for fuel and breather pipe applications, cut your fuel lines to your own spec

Hose clips also available, see FUA00004

quantity

add to basket




Dimensions: 6mm ID x 11mm OD x 1 metre length

More than 5 in stock
Universal Part: Hose Clip 6-16mm




FUA00004

£1.70

INC VAT

£1.42 EX VAT

Small stainless steel hose clip for fuel, oil and small breather pipe unions. Suitable for fuel injection hoses

quantity

add to basket




Dimensions: 6mm -16mm ID x 8mm

More than 5 in stock
Fits Moto Guzzi 1200 Sport ALL, Bellagio, Breva 1200, Breva 850, Breva 1100, Cali 1400 ALL, Griso ALL, Norge ALL, Cali Vintage, Cali Classic (2005-2008), Cali Aquila Nera
O Ring


FUA90461

£5.20

INC VAT

£4.33 EX VAT

Inlet manifold seal

O ring for inlet manifold

quantity

add to basket




Dimensions: 46mm O ring

2 in stock

90706461 GU90706461 90 70 64 61
9070 6461 9070.6461 90.70.64.61
Page 1 of 2