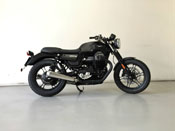 Pair of short reverse cone stainless steel performance silencers from Mistral, the polished reverse cone design compliments the classic styling of the V7 models. Supplied with removable DB killer these are a more durable, stylish, lighter and better sounding than the original silencers.

Also available in black finish

Euro 4 compliant

All Mistral exhausts are hand made in Mandello using high quality components, Mistral develop exhausts that get the best performance from your Moto Guzzi.
Supplied with silencer clamps and certificate of homologation, reuse your existing silencer brackets with these silencers. Note that the optional Guzzi factory centre stand is not compatible with these silencers (unless you make up a centre stand stop bracket to prevent the stand touching the underside of the silencer).

See EXA91826 for silencer gaskets / shims

Release the music in your Guzzi!
This item is currently available by special order, if you would like to order this item please call us on 01484 841395 or email us. It is normally available within one to three weeks of your order