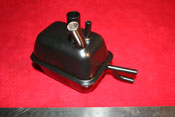 Crankcase breather tank / box in black. Also suitable for round barrelled specials where the standard airbox has been replaced with aftermarket filters

3 pipe connections on underside (large, medium and small diameters), plus connection for rocker cover breather pipes. Connects to ENA14157, ENA17700 and ENA95136
This item is normally back in stock within 1-3 weeks, if you need it more quickly please call us on 01484 841395. If you would like to be emailed once this item is available again then email us.


Dimensions: Box measures 110mm x 70mm x 85mm, crankcase spigots measure 8mm OD and 17mm OD respectively
14155700-z 14155700 GU14155700 14 15 57 00
1415 5700 1415.5700 14.15.57.00