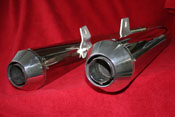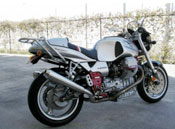 Pair of polished stainless steel exhaust reverse cone silencers with DBKillers. These quality silencers are significantly lighter than stock and improve sound, BHP and torque. They are much smaller (100mm OD) than the OE silencers and compliment the styling of the V11 Sport

Handmade to order in Italy
Supplied with brackets and removable baffles. Priced per pair, for maximum performance gains combine with Mistral crossover EXA20011
Also available in aluminium, carbon and titanium variants - call or email for prices

Release the music in your Guzzi!
This item is currently available by special order, if you would like to order this item please call us on 01484 841395 or email us. It is normally available within one to three weeks of your order