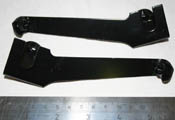 Pair of black steel brackets for mounting the nose cowling FAA14575

Requires a hex head bolt for the headlight fixing e.g. SSA08016 (depending on headlight)
This item is normally back in stock within 1-3 weeks, if you need it more quickly please call us on 01484 841395. If you would like to be emailed once this item is available again then email us.