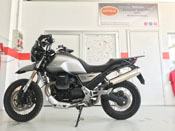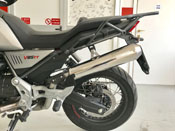 Polished stainless steel conical silencer. Developed by Mistral for maximum performance using their in-house dyno. Hand made to order on the shores of Lake Como. Easy to install using existing mounting points.

As well as looking and sounding better than the stock silencer this performance exhaust is 2.7kg lighter and offers a useful increase in power and torque.
See this video to hear this silencer

Supplied with removable baffle. The baffle is easily removed by taking off the retaining circlip in the rear of the silencer. To achieve maximum performance gains also fit link pipe EXA85699 and performance air filter SIA10433 with V-Twin boost plug-in FUA85001
Benefits of Mistral silencers:
Simple assembly
Low weight
Best sound and performance
Specific bracket included
Same position as the original exhaust: compatibility with side bags and Guzzi accessories
Removable DB-Killer
Specific carbon fiber heat shield included
Handcrafted product
More than 2hp gain


Release the music in your Guzzi!
This item is currently available by special order, if you would like to order this item please call us on 01484 841395 or email us. It is normally available within one to three weeks of your order